Formerly known as Foci Optiks, and later as iWare on Second, iWare Northeast was founded in 1992 as a lens-manufacturing lab located in St. Paul, Minnesota. After three years of making prescription lenses for other retail stores, Kevin decided it was time to open his own shop. His first location, a long and narrow space next to the Minnesota School of Bartending on University Avenue in St. Paul could be described as eclectic; decorated with a giant alligator table and orange and teal walls.
In 1998, iWare relocated to Second Street NE, in Northeast Minneapolis. Here, iWare shared a building with the Frank Stone Gallery. Kevin's eclectic style continued and the inventory expanded to offer more upscale products. The space itself was full of color and angles, a memorable Zen sand garden and an oversized map of the metro area. Good times were had at this location, including numerous trunk shows and live musical events.
In 2008, iWare moved three blocks down the street to 13th and University Avenues Northeast where it joined the likes of the Modern Café, the 331 Club and the Ritz Theater. This shop, much like its predecessors, is a little bit quirky, very bright and outrageously colorful. Since our relocation, we have expanded our space and our inventory, but still offer the same great service we always have.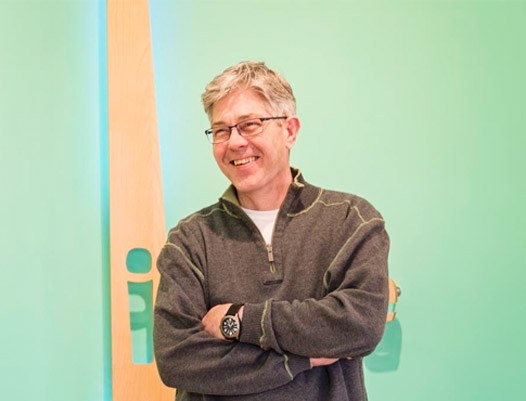 My Story
Kevin and his wife, Leslie, have five boys, between the two of them (If you need one, let him know!). They also have Lola, a trouble-making Jack Russell Terrier.
Optical Career
As a second-generation optician, optics is in Kevin's blood. Following in his father's footsteps, Kevin has been making glasses since 1977.  Before opening his own store, Kevin worked as a fill in at several optical retail stores and also at one of the nations largest wholesale labs, which is right here in the Twin Cities.
Interesting Facts About Kevin
Kevin likes to make stuff. When he's not working, he is usually listening to Bowie and making new displays or putting halogen lights in flammable objects. He loves his Toyota Yaris and large iced mochas with half the chocolate (Hint, Hint). Kevin guesstimates that he has made over 500,000 lenses during his career.
Hobbies
Christy lives in a cozy duplex in Northeast with her husband Zack, lots of books, a veritable jungle of house plants, and two very poofy cats. When she's not outfitting folks in the latest and greatest eyewear, chances are good she's in the kitchen trying a new recipe or gathered around a table playing board games with friends. As someone who is always doing something, her current projects include taming the wilds of her yard into a wildflower garden, making a dent in her ever-expanding To-Be-Read pile of books, and planning her next travel adventure
Optical Career
Christy started her optical career at a large chain store back in 2009. She honed her skills, soaking up as much knowledge as possible and made the move to serve as an Optician at a small private practice in the suburbs from 2014-2018, during this time, she met former iWare employee, Paige, who was serving as a sales rep for a brand the practice carried, and the two became fast friends. When asked to work at iWare, she jumped at the chance to forgo her hour-long bus commute to the suburbs in favor of a 6-minute bike ride through her beloved Northeast neighborhood!
Interesting Facts about Christy
Christy grew up on a dairy farm and was once crowned a dairy princess. She also holds a degree in Clinical Psychology. She loves chocolate (even moreso when it's paired with peanut butter!) She absolutely wants to talk about your cat.