Formerly known as Foci Optiks, and later as iWare on Second, iWare Northeast was founded in 1992 as a lens-manufacturing lab located in St. Paul, Minnesota. After three years of making prescription lenses for other retail stores, Kevin decided it was time to open his own shop. His first location, a long and narrow space next to the Minnesota School of Bartending on University Avenue in St. Paul could be described as eclectic; decorated with a giant alligator table and orange and teal walls.
In 1998, iWare relocated to Second Street NE, in Northeast Minneapolis. Here, iWare shared a building with the Frank Stone Gallery. Kevin's eclectic style continued and the inventory expanded to offer more upscale products. The space itself was full of color and angles, a memorable Zen sand garden and an oversized map of the metro area. Good times were had at this location, including numerous trunk shows and live musical events.
In 2008, iWare moved three blocks down the street to 13th and University Avenues Northeast where it joined the likes of the Modern Café, the 331 Club and the Ritz Theater. This shop, much like its predecessors, is a little bit quirky, very bright and outrageously colorful. Since our relocation, we have expanded our space and our inventory, but still offer the same great service we always have.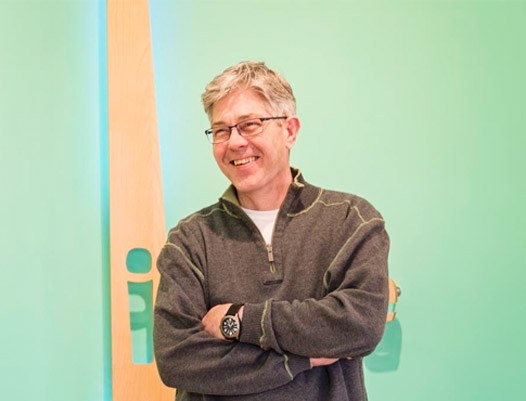 My Story
Kevin and his wife, Leslie, have five boys, between the two of them (If you need one, let him know!). They also have Lola, a trouble-making Jack Russell Terrier.
Optical Career
As a second-generation optician, optics is in Kevin's blood. Following in his father's footsteps, Kevin has been making glasses since 1977.  Before opening his own store, Kevin worked as a fill in at several optical retail stores and also at one of the nations largest wholesale labs, which is right here in the Twin Cities.
Interesting Facts About Kevin
Kevin likes to make stuff. When he's not working, he is usually listening to Bowie and making new displays or putting halogen lights in flammable objects. He loves his Toyota Yaris and large iced mochas with half the chocolate (Hint, Hint). Kevin guesstimates that he has made over 500,000 lenses during his career.
OFFICE MANAGER | OPTICIAN
Hobbies
There's nothing Paige loves more than traveling the world, except maybe her crazy dog, Bowzer. When she's in the Twin Cities, she enjoys staying active, biking and exploring the city. When it's too cold to be outside, you can find her at home crocheting, or baking pies, or hanging out one of the many awesome breweries in Northeast.
Optical Career
Growing up, Paige wanted to be an Optometrist, that is until she had to take the math and science requirements in college. Before she abandoned her dream she started working as an optician in a large chain store. After three years, she took a different job at another large chain store… in Australia. In May of 2012 she stumbled into iWare and asked if Kevin was hiring, the rest is history.
Interesting Facts about Paige
She is a chocoholic (anything sweet really). She has lived in both France and Australia and has a Master's degree in Museum Studies. She currently owns more pairs of glasses than she'd like to admit.